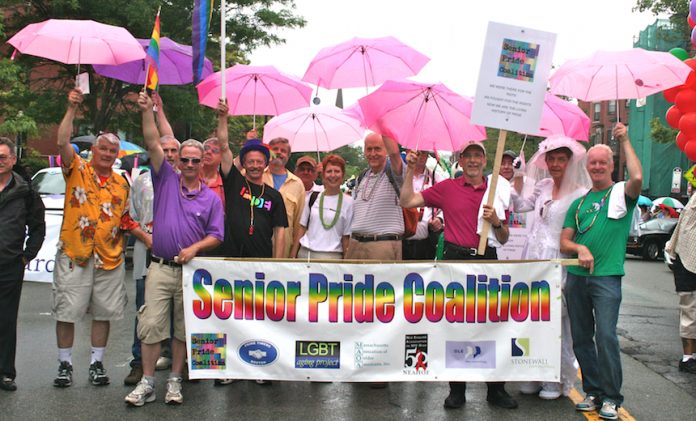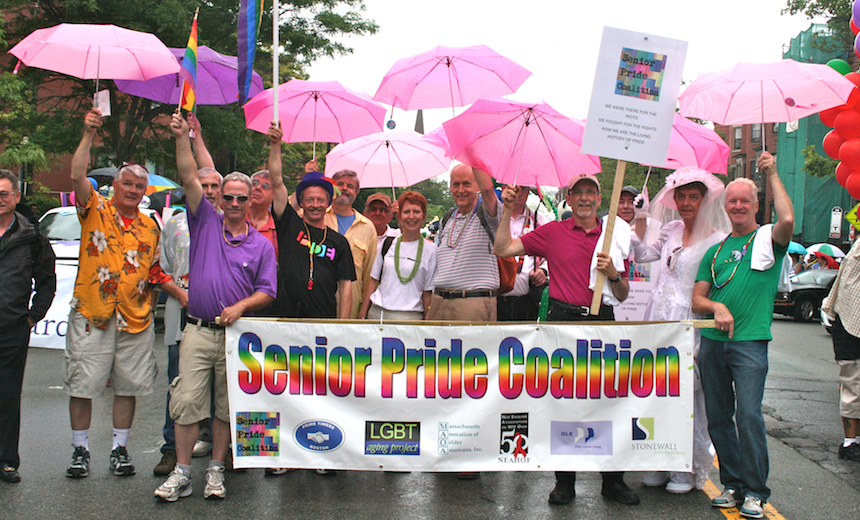 (Editor's note: This article appears in the current May/June 2016 print edition of Boston Spirit magazine. Subscribe for free today.)
Some call it the High Holy Days for the gays. Others in the LGBT community might refer to it as a an obligatory event on par with the annual Thanksgiving dinner with the in-laws. Whatever your connection with Pride Week might be, you have probably seen the excitement ebb and flow. And as you age there may be more ebb in your equation. There is another reality around people's connection with Pride Week: once you skip your first one, it is easier to skip the next one and the one after that. In time you may not remember your last Pride parade but someday you will realize that you just stopped going.
If any of this is true for you perhaps you need to meet Caroline Cutler. She is turning 70 this year and she may be Boston Pride's Biggest Fan. The last two years for Cutler have been full of many unexpected surprises and challenges. Cutler is a resident at Mount Pleasant Home, an innovative rest home in Jamaica Plain. Even though she has known she was different since she was a little girl, Cutler didn't know what that difference was. Just last year some parishioners in her church, yes her church, helped her realize that she was a lesbian. And so in the eve of her 70th year Caroline Cutter came out.
In the months that followed this major life change Cutler decided to embrace her new identity and she joined a supper club for LGBT older adults that met right there at Mount Pleasant Home. As spring rolled around she recalls observing people's excitement about Boston Pride. Cutler told Kathy Seaman, the Director of Admissions at Mount Pleasant Home that she had never been to a Pride Parade and Seaman encouraged her to attend that year. Cutler remembers that Seaman's invitation caused a lot of worry. She wanted to go but she didn't know how it would be possible due to her health. Some medical issues left her in a neck brace and she has trouble walking without her cane. She also didn't know what to expect at a Pride parade and that made her a bit nervous. Seaman sensed Cutler's apprehension and promised to take her and stay with her for the whole parade.
Cutler was so excited the night before the parade that she tossed and turned all night waiting for morning. When she and Seaman arrived at the parade staging area Cutler was so surprised to learn that she was not only getting to see her first Pride Parade, but that she would be riding in it in one of the Senior Pride Coalition Trolleys provided by the Mayor's Office.
Minutes after Cutler got settled into her seat on the trolley her voice cracked with emotion as she called out: 'look, look!' She was pointing at a person waving a rainbow flag. Her eyes filled with tears. Kathy tried to tell her to pace herself because she would be seeing many more of those.
A few weeks ago Cutler shared a few more of her memories about her first Pride Parade last year. "There were so many things that stood out to me. One of the first things I remember were those two cross dressers. I had never seen one before. They had make-up, parasols and the works. They rushed right up to me when they saw my neck brace and said 'are you OK dear?' they were so nice. They said they were marching right behind the trolley in case I needed anything."  Cutler was also amazed by the amount of people – she couldn't get over the crowds on every street they passed. "And they weren't just gay people, they were straight people too" but what she will remember most is "all the people, especially the young ones saying 'thank you, thank you' that made me cry the whole way. They really cared about us seniors, and they were saying thank you because they knew what we went through in our lives to come out, even me as a late bloomer!"
Cutler has all her Pride memorabilia from the parade in her apartment. She cherishes each item. "I have my rainbow flag on the wall, my clacker, the jewelry I was given (Pride beads) a Pride bracelet, I hope I get another one of those this year. And I got a Pride t shirt that I will be wearing this year. I don't care if it is cold I won't put a sweater over it because I want people to see what it says.
At the end of our interview Caroline paused and said, if Seaman hadn't given me a boost I wouldn't have gone. I was scared but with her help I put my brave feet out there and those feet kept saying lets go lets go so I went. Now I want to pass that on to someone else. There might be someone else like me who is scared or skeptical and they don't know what a wonderful happy event this is. I hope someone will find me through this article so I can be there for them. I will sit with them and give them encouragement. I will even meet them a few days before if that will help them.
So this year at Pride when you start to think, 'I've seen enough Pride parades' take a moment to think about how your presence means to everyone there. Especially our LGBT youth and our LGBT elders. They need to know this is a time to celebrate our community.  It is strength in solidarity.
For someone like Caroline Cutler, it isn't just a parade, it is an affirmation for being brave and living an authentic life.  "I look back on that day and say just 'wow' I want to do this every year as long as I am alive."
Pride Events for LGBT Older Adults and Their Friends
"The Silver Party" LGBT Senior Pride Coalition's Annual Tea Dance, Sunday June 5, 2016, 3pm to 7pm, Brookline Holiday Inn, 1200 Beacon Street, Brookline, MA. 857-313-6590.
Pride Week Supper Sponsored by Ethos and Mount Pleasant Home (perfect for first time Pride goers! meet Caroline), Tuesday June 7, 6-8pm, Mount Pleasant Home, 301 South Huntington Ave, Jamaica Plain. RSVP: 617-477-6606.
Pride Parade Saturday June 11 at noon. Ride the LGBT Senior Pride Trolley. 617-927-6417 to reserve your seat.