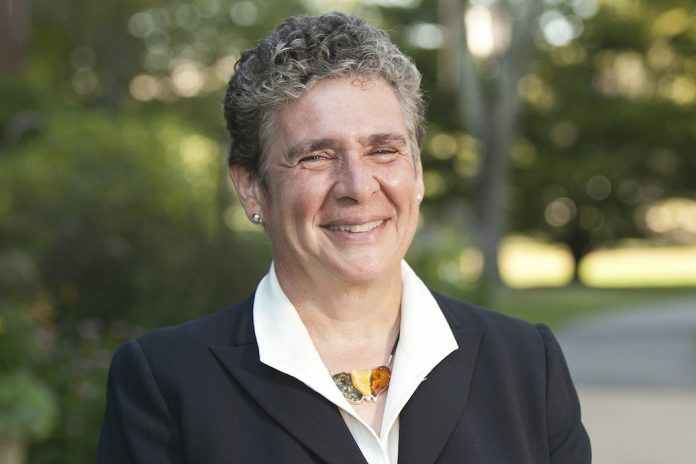 New England's own Elyse Cherry—CEO of Boston Community Capital and generous philanthropist and advocate for civil rights, economic justice, and full equality for women—is the keynote speaker when The Massachusetts LGBTQ Bar Association serves up its 2016 Annual Dinner on Thursday, May 5.
The event takes place in The Wharf Room at the Boston Harbor Hotel, at 70 Rowes Wharf, Boston. The festivities get rolling with cocktails and hors d'oeuvres at 6 p.m. Dinner and awards start at 7 p.m. Advance reservations are required.
Following the keynote speech comes the presentation of the 2016 awards:
The Gwen Bloomingdale Pioneer Spirit Award goes to Raffia Freedman-Gurspan, outreach and recruitment director for Presidential personnel and associate director for public engagement at The White House.
The Kevin Larkin Memorial Award for Public Service honors the Boston Alliance of Gay Lesbian Bisexual Transgender Youth (BAGLY).
The Massachusetts Bar Association Community Service Award goes to to Bernadette Harrigan, assistant vice president and counsel of MassMutual Financial Group.
For those would like to get to know more about the organization, here's the basic scoop:
Founded in 1985, the Massachusetts LGBTQ Bar Association (Mass LGBTQ Bar) is a voluntary state-wide professional association of lesbian, gay, bisexual, transgender and queer lawyers and our allies, providing a visible LGBTQ presence within the Massachusetts legal community.
The Mass LGBTQ Bar is governed by a 16-member Board of Directors elected by the general membership.  Two seats on the Board are designated specifically for transgender or genderqueer attorneys.  Law students, paralegals and other members of the legal profession are encouraged to become non-voting members of the association.  We are affiliated with the National LGBT Bar Association and have a seat in the Massachusetts Bar Association House of Delegates.
For more, check out the organization's website (www.masslgbtqbar.org).