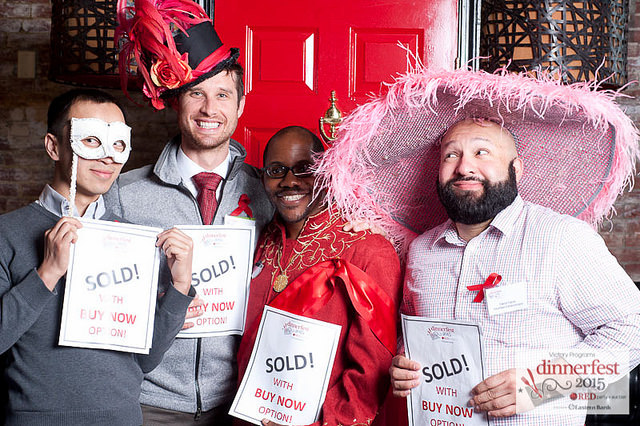 (Editor's note: This article appears in the current March/April 2016 print edition of Boston Spirit magazine. Subscribe for free today.)
On Sunday, April 24, over 200 guests are expected to attend the Dinnerfest RED Party + Auction at the swanky Back Bay restaurant Red Lantern. The event has emerged as the single largest annual fundraiser to support the multi-service non-profit organization Victory Programs, and it's a major foodie draw. But it is also rooted in the story of much smaller gatherings that started nearly 30 years ago, and which exemplified the courage of a gay community that came together in the face of AIDS.
Since then, many things have changed. But the need to unite against an epidemic—whether it is illness, poverty or addiction—remains the same.
"It all began with a group of men who were losing their friends to AIDS," says Shauna Helton, a special events manager who helps steer the current Dinnerfest team. "They would come together around the dinner table to share stories, information and commiserate." Helton is essentially describing the inception of the Boston Living Center, which was formally incorporated in 1990. It opened in its earliest incarnation at the YWCA building on Clarendon Street in Boston, as part of the Massachusetts Coalition for People with Disabilities; in 1995, it moved to its current location on Stanhope Street (where it now nearly neighbors Red Lantern). There, the organization became a leader in care for the community, eventually emerging as the largest peer–led organization for people with HIV/AIDS in New England. Free of charge, the BLC offers daily meals, holistic care, classes, workshops and other services to a membership of thousands. And the BLC is now just one of many programs operating within the larger Victory Programs organization.
Over the years, Dinnerfest emerged as an event that pays tribute to the BLC's earliest days while performing as a successful fundraiser: Last year garnered a record-breaking $88,000 thanks to 75 restaurants—including longtime supporters like Aquitaine, Mistral and Grill 23—that donated dining packages for its elaborate silent auction. (The party also features passed hors d'oeuvres, cash bar, a raffle for JetBlue tickets, and more fun.) But Dinnerfest's popularity has increased in tandem to the needs it must answer. Recent cuts to SNAP (Supplemental Nutrition Assistance Program) and Social Security benefits have impacted members who now "simply do not have enough to survive," says Helton. As those with HIV/AIDS live longer, healthier lives, the BLC has been supporting them with job training and workplace readiness opportunities—like the launch of its BLC Academy, a collection of computer classes, test prep programs, and other occupational initiatives. And it has partnered with BAGLY (the Boston Alliance of LGBTQ Youth), among other community stakeholders, on the POZ Vibes Café, a monthly meet-up for HIV-positive young people and their allies.
There have been struggles, though, particularly back in 2011. That's when the BLC was nearly forced to shut its doors after it was discovered that its then-executive director, Valerie Tebbetts, had embezzled more than $125,000. Without any interruption in service, the BLC was able to rapidly fundraise about $200,000 to stay in operation long enough to solidify a new, more stable arrangement: In 2012, it announced a merger with Victory Programs, another organization with roots in the LGBT and HIV/AIDS communities. Over the last 30 years, its president Jonathan Scott, former chairman of MassEquality, has turned what began as a single 1975-founded South End residence for the homeless into a multifaceted nonprofit that encompasses a litany of diverse programs that annually serve over 2,600 people, from those dealing with substance abuse to those living with chronic illnesses like HIV/AIDS. And Scott has cultivated an especially LGBT-inclusive reputation for Victory Programs: After all, he says, he wanted to make a difference after he saw gay men in need barred from homeless shelters back when he was a volunteer in the '70s.
Today, Victory Programs' portfolio includes seven programs that directly affect those with HIV/AIDS: from the Boston Living Center to the Bobbie White Housing Services, a mobile medical case management service, to the Living and Recovery Program, a 30- to 90-day stabilization program for men and women who are simultaneously living with HIV/AIDS and dealing with chronic relapse of substance abuse. But support of the organization, and Dinnerfest, contributes to its ability to address many other issues too. Right now, Victory Programs is making a fight against the opioid epidemic central to its mission. Massachusetts has seen an 88-percent increase in related deaths from 2012 to 2015, and they cut across all socio-economic lines: the LGBT community is as vulnerable as any other, and if there's one thing the community should understand, it's that no serious epidemic should ever be ignored.
We'll drink, and eat, to that.
This year's Dinnerfest is co-chaired by Attorney General Maura Healey and chef Joanne Chang of Flour Bakery and Myers + Chang. It will be held at Red Lantern (39 Stanhope Street, Boston) on Sunday, April 24 from 3to 6 p.m. Tickets are $60 in advance (visit vpi.org) and $70 at the door.