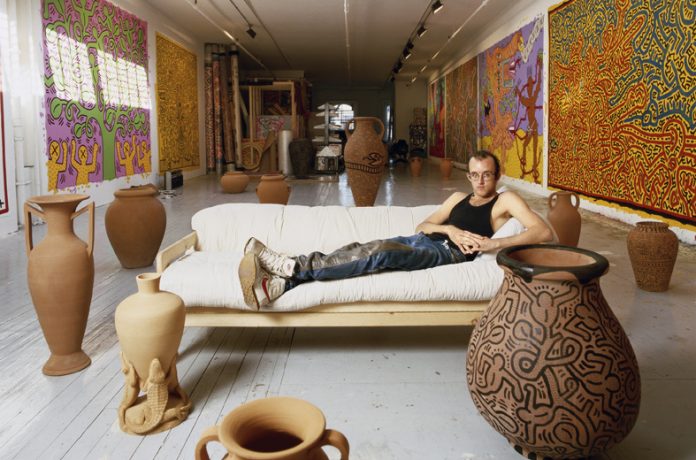 He was one of the rising stars of the East Village arts scene who died of AIDS at 39. His friends and creative co-conspiriators included fellow artists Keith Haring and Jean-Michel Basquiat, the dancer Bill T. Jones, Madonna, and a litany of other ingenious souls too numerous to list on a blog but many of whose images can be found in the more than 80 photographs selected for this new show.
His name, for those unfamiliar with his work celebrated throughout the late '70s and '80s, is Tseng Kwong-Chi. His current retrospective, "Tseng Kwong-Chi: Performing for the Camera," which received a rave in the New York Times when it was first displayed at NYU last spring, opened earlier this week at the Aidekman Arts Center at Tufts University. It was co-created at the Grey Art Gallery at New York University and Norfolk, Virginia's Chrysler Museum of Art, by the late Amy Brandt, who earned her curator creds as a Tufts grad student, and moves on for its next run at Northwestern University in the summer. To cull the images and shape the show, Brandt worked closely with the artist's sister Muna Tseng, who manages the estate of her brother's more than 100,000 works.
Despite its playfully accomplished artwork, which we'll get to below, what's most remarkable about the show is its exuberant spirit. Pop songs from the '80s—Bowie, Madonna, The Talking Heads, The B52s, Echo and the Bunnymen—provide a soundtrack for the show, which, when you walk in is set up like one of those infamous parties at museums or couture fashion shops from the days when Deborah Harry, Andy Warhol, Happy Rockefeller, and Yves Saint Laurent would brush elbows with the denizens of Alphabet City.
An enormous slide montage of the party days, where clubs were regularly turned into pop-up shows decades before the term was coined, is splashed across a giant screen at the show's center stage.
Unlike, say, the depressing and drug-addled pre-AIDS holocaust documentary photos of Nan Goldin, Tseng captured in his documentary photos and artist portraits not just the exuberance but the urgent creative energy of his party-goers. Yes, many of Tseng's contemporaries plunged into the killer substances and hedonistic sex-capades that tended to go hand in hand with AIDS in the early '90s, but Tseng did not focus on tragic behavior; rather, we see them engaged in what truly charged up these artistic souls: their exuberant spirits at work and at play. Tseng exposes this much overlooked aspect of an oft-maligned culture, and we see it all here in this show through brilliant gelatin silver and giant color prints.
With more than 80 wall-mounted images, light boxes, hand-made photo books, and several audio-visual components, the show is divided into 11 bodies of work that showcase Tseng's four major types of work: documentary photography, magazine work, formal portrait photography, and self-portraiture.
As fresh and contemporary as Tseng's work are, this guy received a formal education in both traditional Chinese painting and calligraphy, starting at age 6 with a private tutor in Hong Kong, as well as major training in the classical arts at the École Supérior d'Arts Graphiques (previous alumni including Matisse and Duchamp) in Paris. Students of the visual arts can spot all these influences especially in his portraiture work (notably his critically acclaimed "East Meets West" and "Expeditionary" series) but even in the set-ups of his "candids" from the party scenes and the playful, and often ambitiously ingenious magazine work. For one counterculture magazine spread, he even managed to convince major members of the moral majority (Jerry Falwell, William F. Buckley, and Pastor Ed Dobson) to pose in front of a crumpled American flag in an ironic, yet somehow strangely sweet-hearted send-up of their draconian values.
For a taste of what's in this stunning show, check out its exhibition page on the Tufts Gallery website.
The Aidekman Arts Center is located at 40 Talbot Avenue in Medford. Hours are 11 a.m. through 5 p.m. on Tuesdays through Sundays and the galleries are open until 8 p.m. on Thursdays. Call (617) 627-2518 for further details.