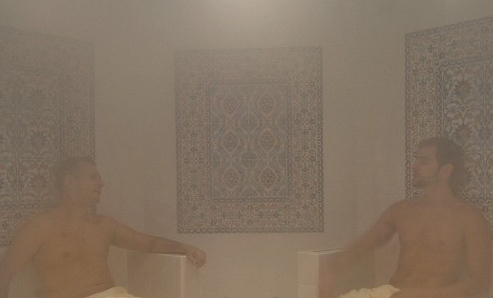 Unique spa treatment in Provincetown transports New Englanders to Morocco
Imagine sitting on the warm tiles of a Moroccan sauna with a handsome tellak—attendant—wearing a towel, pouring hot water all over you.
The traditional mosaic tiles of the sensuous steam room fade gently from view as water vapor fills the air. The tellak invites you to close your eyes as he caresses olive-based soaps all over, cleansing you with the gentleness of a parent bathing an infant. Next comes the deep cleaning from a special exfoliating glove that applies anti-toxin clay from the hills of the Maghreb in West Africa.
Before you know it, your 45-minute surrender is complete and you are rising, refreshed, renewed, and purified. After a relaxing rinse at the showers, you greet a sunny, beautiful day—in Provincetown.
Yes! This relaxing and invigorating traditional Arab experience comes courtesy of Namaste Spa at Carpe Diem in the center of the great gay mecca of P'town.
Rainer Horn, one of tellaks and an owner of the spa and guesthouse, explained how he fell in love with Hamam Gommage experience many years ago. He studied the art of this classic ritual and brought it to Cape Cod where he has shared it with countless enthralled participants. Individual sessions and group classes, of up to four participants, are available.
The Hamam Gommage is one of many popular spa treatments offered at Namaste Spa. In fact, Namaste's services are so popular that this Winter they are expanding the spa facilities to include two more therapy rooms and a new outdoor spa.
The new facilities are expected to be up and running by Memorial Day, which will create even more completely satisfied—and utterly refreshed—customers.
To find out more and to book a treatment, visit carpediemguesthouse.com/namaste-spa. [x]