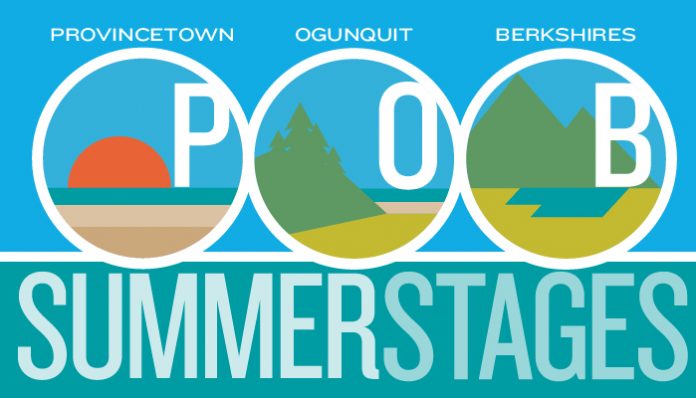 Every summer, Provincetown bursts at the seams with live theater and top notch performers—and it can be a little overwhelming to sift through all the options. If time is tight and ticket money at a premium, consider this your "Fab Fifteen" of must-see summer shows in Provincetown. Setting your sights north to Ogunquit, or west to Berkshires resorts? Fret not. We picked a "Fab Five" for each of those gay destinations too. Now, let the show begin.
The Golden Gals (June 5–August 30)
Blanche, Dorothy, Sophia and Rose. For years, we thanked those saucy Miami minxes for being our friends–and now, the iconic sitcom gets new, fabulous life with this drag version, starring Varla Jean Merman, Ryan Landry, Olive Another and Brooklyn Shaffer as the hilarious, cheesecake-gorging gals. The sitcom-style script even includes fake commercials–those you won't want to fast-forward through. In fact, we wish we could hit "pause" and relive this classic show like this forever.
Where: The Art House. How: ptownarthouse.com
"Audition" with Kevin Aviance and Marti Gould Cummings (June 10–September 2)
Look up "fabulous" in a dictionary, and you'd find Kevin Aviance's body glitter all over the page. (Aviance himself would probably be out at the club.) His dramatic, colorful fashions and knack for ultra-elaborate, sequin-studded makeup have made Aviance a memorable singer (he collaborates frequently with DJ legend Junior Vasquez), performance artist and nightlife personality. Now he and NYC-based drag performer Marti Gould Cummings will spend the summer helping P-Town find the Next Big Thing by hosting "Audition," a saucy talent and variety show.
Where: The Paramount. How: onlyatthecrown.com
Kate Clinton (June 19–August 31)
When it comes to comedy and cultural commentary, Clinton wins every race. And for her latest show, #KateClinton2014, the comedian jumps into the digital age to talk about social media, tweeting, twerking, Pussy Riot and–well, you know. She's a Provincetown regular, and for good reason: We always wind up with fond memories of the Clinton years.
Where: Crown & Anchor. How: onlyatthecrown.com
Judy Gold (June 24–September 1)
Out comedian, writer and producer Judy Gold has won awards and accolades for her wit and humor on stage and behind the scenes, whether through the raucous laughter that accompanies her stand-up shows or the two Daytime Emmy Awards she received as a writer and producer of the Rosie O'Donnell Show. Her summer engagement in Provincetown will prove why, as Gold gives us her sterling take on everything from politics to pop culture, motherhood to the media.
Where: Post Office Cabaret. How: postofficecabaret.com
Snow White and the Seven Bottoms (June 29–September 14)
Producer/performer Ryan Landry and his Gold Dust Orphans troupe have become synonymous with "spoof." From Mildred Fierce to Mary Poppers, Landry's trademark approach of crafting irreverent and queer parodies of familiar source material has made him a favorite playwright in local fringe and mainstream theatre. (Last year his re-imagining of Fritz Lang's M was embraced by the Huntington Theatre Company.) For Snow White, expect the expected non-Disney take on the classic story about a wicked queen, a sweet girl, and a bunch of dwarfs who may or may not prove whether size really matters.
Where: Provincetown Theater. How: provincetowntheater.org
Well-Strung (June 30–September 20)
File under: Not your average boy band. This string quartet and vocal group is comprised of handsome hunks with music tastes that run from classic to contemporary. So in their new show, "Popssical," expect to hear the music of Beethoven and Ravel sidling up to modern hits from Madonna, U2 and Miley Cyrus. Curious how such worlds collide? Search YouTube for their mash-up of Mozart's "A Little Night Music (1st Movement)" with Kelly Clarkson's "Since You've Been Gone," for a taste of Well-Strung's impressive aural skills.
Where: Provincetown Art. House. How: ptownarthouse.com
Gay Camp! (July 7-11)
This hilarious hit has been leaving crowds at NYC's Duplex in stitches. (Luckily, these scouts know first aid.) In this kitschy, comedic take on pitching tents and scouring for wood, two queer kids are sent to be "cured" at Camp Acceptance–and wind up in a world of evil headmasters, intriguing games of Twister, and innuendo-laden jokes that fly fast, furious, and frequently in the direction of the right-wing.
Where: Crown Cabaret. How: onlyatthecrown.com
Atomic Bombshells Burlesque (July 17—August 15)
You've never seen burlesque like this. This explosive (get it?) Seattle-based troupe is the real deal, at the forefront of the art form's revival, and bringing it on international tours loaded with striptease, humor, and vaudeville-inspired hijinks that hew to burlesque's classic form–with just enough modern edge to keep things interesting. The show is hosted by Seattle drag artist Robbie Turner through July 31. From August 1-15, recent RuPaul's Drag Race breakout star BenDeLaCreme will take the reins.
Where: Crown & Anchor. How: onlyatthecrown.com
Helen Reddy (July 21-22)
She is woman—hear her roar. One of the most successful Australian artists to reach American ears was Helen Reddy, whose feminist anthem was just one of 15 singles to crack the stateside Top 40. A queen of '70s pop, Reddy's hits like "Delta Dawn" and "Angie Baby" helped define an era in music–and though she retired from performing for nearly a decade, she's back to revive the classics during Girl Splash Week in Provincetown. We roar in approval.
Where: The Paramount. How: onlyatthecrown.com
Carol Channing & Tommy Tune (August 7)
There are legends—and there are legends. Channing and Tune irrefutably fall under the latter category, and at 93 and 75, respectively, that they continue to pound the performing pavement and bring audiences razzle, dazzle, song and dance is pretty inspiring. This rare, one-night-only chance to catch two theater icons in America's first arts colony is one to catch "Before the Parade Passes By." (That's a "Hello, Dolly!" reference. Brush up!)
Where: Town Hall Auditorium. How: onlyatthecrown.com
Sandra Bernhard (August 10–11)
Her caustic brand of comedy has probably made her as many enemies as friends. (It's doubtful she and Madonna are still exchanging Christmas cards.) But the funny lady is a pioneering member of the LGBT community, having played one of television's first lesbian characters on Roseanne. She brings her fierce, funny firepower to a summer stint in Provincetown.
Where: Crown & Anchor. How: onlyatthecrown.com
Bruce Vilanch (August 19–24)
Vilanch can't be missed—thanks largely to his raucous laugh, colorful eyewear, and his extensive collection of double-entendre themed t-shirts. But besides being a pioneering out comedian, he's been a hugely prolific comedy writer behind-the-scenes. The longtime head writer for the Oscars, Vilanch has brought his touch to everything from Hollywood Squares to Hollywood stars like Bette Midler and Whoopi Goldberg, who tap him for his charm, wit, and signature comedic style.
Where: Post Office Cabaret. How: postofficecabaret.com
Caroline Rhea (August 20)
Carnival's Grand Marshal has her own comedy show, a smart and spontaneous stand-up routine that reveals why she managed to climb up the ladder to become a popular TV personality (remember when she was handpicked as Rosie O'Donnell's replacement?) and actress.
Where: Town Hall. How: ptown.org/carnival
"Nancy & Beth" with Megan Mullally (August 27–August 31)
Face it. We'll always know Mullally best as Karen Walker, wealthy, martini guzzling wisecracker of Will & Grace. But the versatile Emmy winner has continued to work constantly in TV (like Party Down and Breaking In), film (including GBF: Gay Best Friend) and stage. She hits P-Town her new band, Nancy and Beth: a quirky outfit formed with actress Stephanie Hunt that plays rustic southern jazz alongside kookier comedy songs. Karen would hoot it up here, and so will you.
Where: The Art House. How: ptownarthouse.com
Wally Lamb (September 4)
Amid all the glittery cabaret, it's nice to make time for more literary pursuits. And tonight the "Inside the Pages" series welcomes best-selling novelist Wally Lamb (She's Come Undone and I Know This Much Is True), who recently released his fifth tome We Are Water. A sought-after speaker, Lamb was also spent much of recent years volunteering to facilitate writing workshops at a Connecticut women's prison–and editing published books of their autobiographical work. He's endured controversy for the program, but his dedication only underscores his unfailing commitment to sharing the power of the written word.
Where: Wellfleet Preservation Hall. How: wellfleetpreservationhall.org
OGUNQUIT
Paula Poundstone (July 19–20)
The self-avowed asexual has long been popular in gay comedy clubs: maybe for her conservative-spearing standup, maybe for an assortment of pantsuits that is second only to Ellen's. Poundstone grew up in Sudbury, Massachusetts and cut her teeth at Boston comedy clubs. She returns to her native New England to bring Ogunquit glib observations about her politics and personal life.
Where: Jonathan's. How: jonathansrestaurant.com
Legally Blonde (August 5–16)
The film starred Reese Witherspoon as a ditzy sorority girl who defies expectations by becoming a Harvard Law standout. And the Laurence Olivier Award-winning musical defies expectations by turning a silly concept into an–okay, silly show. But a fun and campy one that is impossible to not enjoy. And any journey toward self-acceptance that involves a hunky UPS deliveryman can't be bad.
Where: Arundel Barn Playhouse. How: arundelbarnplayhouse.com
Coco Peru (August 29–31)
Peru has been one of the best and most recognizable drag performers on the scene for over 20 years, bringing humor, heart, and a sense of activism to one-woman shows—and her "Conversations with Coco" series, chats with gay icons from Bea Arthur to Karen Black. In her show "Have You Heard?" Coco will perform favorite monologues and songs, plus some exciting new stuff too. This trailblazing, straight-shooting queen proves you can perform high drag in sensible heels.
Where: Maine Street. How: mainestreetogunquit.com
Melissa Ferrick (August 30)
The out singer-songwriter, a Berklee College of Music alum, brings her raw and emotional music to Ogunquit. Performing songs from summer album the truth is, Ferrick will bring a little Southern flair to her familiar musings on love and loss, documenting the end of one relationship and the start of another. Think Northeast meets Nashville meets a musical tete-a-tete with a longtime friend.
Where: Jonathan's. How: jonathansrestaurant.com
The Witches of Eastwick (September 3–27)
You loved the movie with Cher, Susan Sarandon and Michelle Pfeiffer, that trifecta of bewitching divas. (The original "Desperate Housewives.") Now the Ogunquit Playhouse presents the American Northeast premiere of the hit stage adaptation, a musical comedy that mixes the original source material (John Updike's novel) with some sassy song and dance that will cast a spell on summer audiences.
Where: Ogunquit Playhouse. How: ogunquitplayhouse.org
BERKSHIRES
Jason Alexander (July 13)
George Costanza sings? Maybe not, but Jason Alexander does. And though many know him best as the neurotic pal on Seinfeld, Alexander has always had a successful theater career–the type that earned him a Tony Award. Tonight he'll be accompanied by the Boston Pops Orchestra to sing and dance his way through music from Pippin, The Music Man, and Merrily We Roll Along, among others.
Where: Tanglewood in Lenox, MA. How: bso.org
Breaking the Code (July 17–August 2)
The influential founder of artificial intelligence made countless contributions to modern technology; his Turing Machine is a model of what would become the modern computer. And during WWII, the famed mathematician developed ways to decipher vital German codes. But Turing's contributions weren't enough to save him from prosecution for homosexuality, then criminalized in the UK, and subsequently chemical castration. His haunting and tragic story is presented by Barrington Stage Company.
Where: Boyd-Quinson Main Stage in Pittsfield, Mass. How: barringtonstageco.org
33 (August 7—17)
The Berkshire Fringe has some truly engaging and innovative shows in its season, but we're especially excited for the US premiere of 33 from UK-based group Wardrobe Ensemble. The challenging piece uses "soulful stories, macho choreography and original music" to capture the Chilean miner crisis of 2010, transporting audience members 2000 feet underground for an outlandish, touching and funny take about fame, death and madness.
Where: Shire City Sanctuary in Pittsfield, Mass. How: berkshirefringe.com
Weekend OUT at the Pillow (August 8—10)
Jacob's Pillow Festival is famous in the dance world for the caliber of its international talent. And it's legendary in LGBT history for its founder, modern dance pioneer Ted Shawn, who blazed trails with an all-male troupe that included his longtime lover. A gay-focused weekend at the Pillow is a natural fit, and bursts with special exhibits, performances, tours and socials.
Where: Jacob's Pillow in Becket, Mass. How: jacobspillow.org
Tony Bennett (August 31)
The 87-year old crooner is just as vital as ever. He even has a duet album with Lady Gaga, Cheek to Cheek, coming out later this year. We don't think you'll be hearing "Poker Face" tonight, but countless classics from the Great American Songbook? Those Tony will deliver, and better than anybody else.
Where: Tanglewood in Lenox, MA. How: bso.org