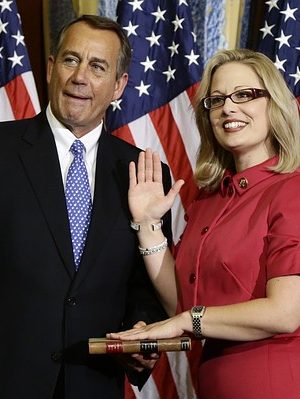 The First Bisexual Woman in Congress is a Badass – and Needs Our Help
In 2012, there were more openly LGBT members of Congress elected (and re-elected) than any year before and one openly LGBT member elected to the Senate. Cong. Krysten Sinema (D-Arizona), Cong. Mark Takeno (D-California), Cong. Sean Maloney (D-New York), and Cong. Sean Pocan (D-Wisconsin) were ushered into Congress for the first time and Sen. Tammy Baldwin (D-Wisconsin) became the first openly gay U.S. Senator. Cong. Jared Polis (D- Colorado) and Cong. David Cicilline (D-Rhode Island) were re-elected.
It was a banner year for the gays– except that we lost Barney Frank and I'm sure that there are several Republicans in Congress that our hiding behind their Cole Haan loafers in the Cloak Room but … I digress …
Now its re-election time and all of Congress is on the hot seat.   One of the most hotly contested races among the aforementioned Congessional LGBTers is the first openly bisexual ever elected to Cognress, 37-year-old upstart Krysten Sinema (pronounced cinema). Cong. Sinema represents the Phoenix area of Arizona. Arizona elected a LGBT person to Congress in 2012, you say? Yes, and not only is she openly bisexual, she is also pro-choice, pro-immigrant, and well – a Democrat.  Formally a Arizona State Senator, Sinema fought through a decidedly ugly 2012 Democratic primary with the Arizona Senate Minority Leader and the Arizona Democratic Party Chair – where her sexuality was used against her. After winning the primary handily, Sinema sailed through the general election and into Congress.
While her district was liberal leaning when elected, redistricting happened. Redistricting is what occurs every 10 years when the census returns population details to state legislatures. In turn, state legislators have to cut new districts for their Congressional and state legislative districts. Sinema got the proverbial short end of the redistricting stick. A Republican controlled legislature redistricted her into decidedly red territory.
Sinema now faces a Republican woman who is a retired Air Force Pilot Lieutenant Colonel and strident right-winger, Wendy Rogers. Rogers is not only a veteran of the Iraqi war but a mom and small business owner who is bound and determined to overturn Obamacare. Sinema points out the traits of her opponent are not great for her — a single woman with no children and no record of service — but, as she points out, "I am a member of Congress and have done a lot for my district over the past two years – I'm thinking this will count for something!"
Last week, Sinema was in town to stump for Congressman John Tierney who is in a tough re-election bid against up-and-comer Seth Moulten in the primary and Massachusetts's own Log Cabin Republican, Richard Tisei  in the general election. In speaking with her about her race, Sinema said its going to be a tough re-election but that she is confident in her ability to connect with her new district.
"While it is a Republican leaning district, I'm organized and have been running in this area since I was in the State Senate," said Sinema. "These people are Republicans but not right wingers. They are fiscally conservative, but not socially conservative. My lifestyle is not a factor and neither is the fact that I'm pro-choice.
"I've done a lot for veteran's in the District and for local projects. These things are going to count."
Sinema is an off-the-cuff talker, humorous, and a survivor. She grew up below the poverty line and was at times homeless as a child. Hers is a true "pulled yourself up by your bootstraps" story.  She was recently named the "Most Colorful Congresswoman" by Elle Magazine – not just for her fuscia outfits – but her uncanny ability to tell you exactly what she thinks – about anything.
She makes no bones about the fact it in going to be a tough race, "I'm in a tough race, and I need a lot of money to win," said Sistema. I've raised almost $3 million and the Democratic Congressional Campaign Committee promised more – but I need at least $7-9 million to win this race.  I'm going to fight for this seat tooth and nail and I'll take all the help I can get."
Want to learn more about Krysten and help keep a LGBT person in Congress? Click here for her campaign website: kyrstensinema.com