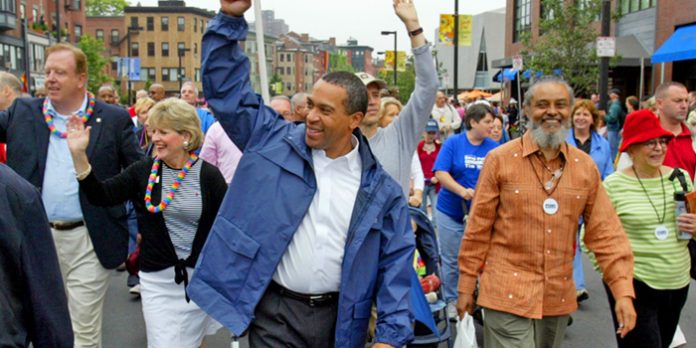 It was announced today that for his 8th time marching in the Boston Pride Parade, Governor Deval Patrick will be one of the parade's Grand Marshall.  Patrick is a natural choice for the honor.
During his two terms in office, Patrick has been a champion on LGBT legislation and civil rights issues affecting LGBT individuals and families. To name a few, Patrick helped to champion equal marriage in the Commonwealth and helped pass an anti-bullying bill to protect LGBT kids.
During his re-election run, the governor came out to publicly support the Transgender Civil Rights bill—with public accommodations—and helped push it through the Legislature and sign it into law. He is still pushing for public accommodations to be added.  He also stood proudly with his daughter, Katherine, when she came out during his first term as Governor.
There is one hiccup to his marshaling though—the Democrat State Convention is also on Saturday, June 14, at the DCU Center in Worcester.  This convention will decide who will be the Democratic Party's nominee for all of the state-wide offices—including Governor.  Over 6,200 delegates from all over the state will be at the convention including a bevy of LGBT delegates—including moi.
What is a sitting Governor to do?
PROS

CONS

PROS

CONS

2014 State Convention

Boston Pride

LOCATION

DCU Center

Boylston, City Hall Plaza

It's inside: you never know the weather in June—it could be cold and rainy.

It's inside: you're trapped inside on a beautiful June day with crazy Democrats.

It's outside: it could be beautiful June day!

It's outside: it's June in Boston—there could be a Nor'easter.

FOOD

None

It's the DCU Center, nothing … and then there's those sack lunches … ick

The gays have everything from fried dough to vegan fair

There is vegan food

CROWD

Thousands of screaming Democrats that love you.

Thousands of screaming Democrats that love you.

Thousands of LGBT folks that love you and fawn over you.

The Sisters of Perpetual Indulgence wear lots of glitter and will molest you—you'll have to explain the glitter later …
As this is his last year in office, we are sad to see such a champion go, but the MassDems Convention will be more about the next governor then the current one …. and our current gov may not be gone for long. Patrick is rumored to be mulling a possible Presidential run in 2016 …