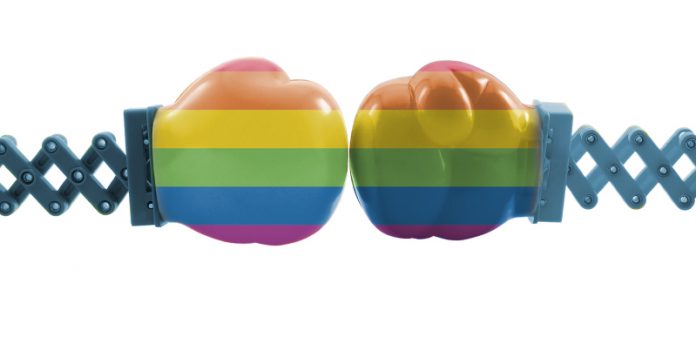 As statewide LGBT organizations go, it's hard to match MassEquality's storied reputation. Marriage equality in Massachusetts was born of the judiciary ten years ago this month, but in its infancy, MassEquality reared it in a toxic anti-equality national political environment amid efforts at home to amend our state constitution to deny lesbian and gay folks the right to marry.
MassEquality spearheaded an effective grassroots campaign apparatus aimed at protecting elected officials and candidates who stood with us and defeating those who did not. The political air cover MassEquality and other LGBT groups provided allowed pro-equality lawmakers to stand up to the conservative coalition bent on stuffing out the early flames of marriage equality.
In those days, MassEquality was able to draw a bright line between candidates for office: you were either for us or against us. Ten years later, no credible candidate for statewide office in Massachusetts can afford to oppose marriage equality. The fields of candidates for various offices in Massachusetts are often an embarrassment of riches in their support for our community. In last year's race to replace Boston Mayor Tom Menino, MassEquality chose not to endorse, even though they had weighed in to support Menino four years earlier.
MassEquality's controversial endorsement is well-timed to provide Coakley with solid progressive bona fides. Next month thousands of delegates to the Massachusetts Democratic Convention will assemble to cast their votes for the official party endorsement. The endorsement—which requires a candidate to earn more than half of the votes cast—doesn't really matter. Candidates who do not get at least 15% are not allowed to continue to the next stage of the Democratic Primary, so that's the number that matters. Beyond that, the convention is an expectations game that Coakley hopes to win.
That's why many in Bay State LGBT circles are left shaking their heads at MassEquality's recent endorsement of Attorney General Martha Coakley in the race for governor of Massachusetts.
No one disputes the right of MassEquality to highlight the good work Coakley has done – she was the first Attorney General to take on DOMA. But MassEquality's endorsement effectively means that the state's LGBT advocacy organization of record is actively working to defeat Coakley's remaining pro-equality Democratic challengers like Don Berwick, the former Medicare and Medicaid Administrator who fought for hospital visitation rights before it was cool and former civil rights lawyer Juliette Kayyem.
Perhaps most disturbing, MassEquality is now in the position of working to defeat Steve Grossman. Both Steve and his wife Barbara are former members of the organization's Board of Directors. They were smack dab in the middle of the battle when marriage equality broke out ten years ago. Grossman was a key proponent, who used his fundraising prowess to help MassEquality raise the millions of dollars needed to run their political outreach operation. To date, both Mark Solomon and Scott Gortikov, two of MassEqaulity's former Executive Directors, have both endorsed Grossman.
So, MassEquality's endorsement goes to Coakley, but does that mean the Attorney General is the candidate with the most support among leaders of the LGBT community? Hardly.
We decided to take an informal poll of influential and knowledgeable LGBT leaders to see which candidate is really winning the Power Gay** Primary.
| | | |
| --- | --- | --- |
| | | |
| Steve Grossman | Martha Coakley | Don Berwick |
| John Affuso | Arlene Isaacson | Carol Aloisi |
| Marc Solomon | Mary Breslauer | Ture Turnbull |
| Scott Gortikov | Rebecca Haag | |
| David Goldman | Mary Bonauto | |
| Rep. Sarah Peake | Julie Goodridge | |
| Sen. Stan Rosenberg | David Wilson and Rob Compton | |
| Rep. Liz Malia | Elyse Cherry | |
| Rep. Denise Andrews | Kara Coredini | |
| Rep. Kate Hogan | Neal Minehan | |
| Ron Ansin | Valerie Fein-Zachary | |
| Brian Rafanelli | Michael Falcone | |
| Carl Rosendorf | Marc LaCasse | |
| Brian Puccini | Pete Dziedzic | |
| Steve Driscoll | | |
| Harry Collings | | |
| Arlene Fortunato | | |
| Ann McGuire | | |
| Liz Page | | |
| Alix Ritchie | | |
*DeeDee Edmondson is a donor to Steve Grossman's campaign.
** For our purposes, Power Gays are leaders or former leaders of LGBT organizations, prominent philanthropists and funders, elected officials and opinion leaders.