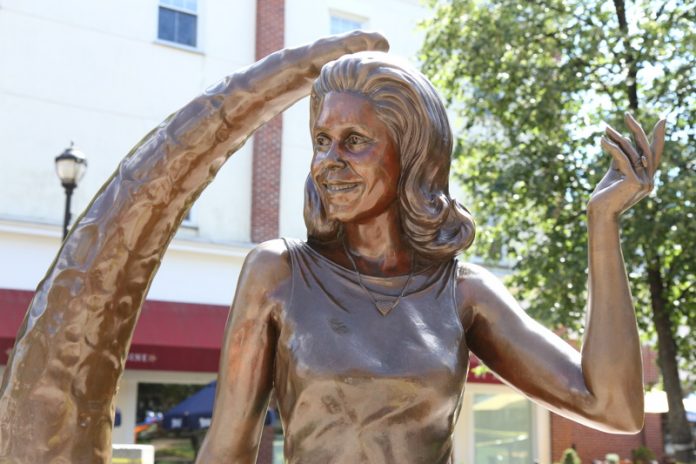 New England's gay ghosts come out of the closet
For the record, Casper was more than just a "friendly" ghost. Yep, when the playful spirit opened his mouth, a spooktacular, rainbow-colored purse fell out. And, as for his witchy gal pal Wendy? She was a hag … and we're not talking the kind with a pointy hat and broomstick. Gay ghosts? Historically, the spirit realm has transcended sexual orientation. Now that the tightly-guarded doors of the paranormal closet have creaked open, spirits from New England's not-so-Puritanical past are coming out. With the gay-friendly holiday known as Halloween lurking in the horizon, we've assembled a motley crew of atypical regional haunts, ranging from Boston's oldest continuously operated hotel which allegedly boasts a gender-bending spirit to a former funeral parlor turned bed & breakfast in Provincetown. It appears that the Lower Cape continues to be a LGBT playground … even in the afterlife. Haunted regional hot spots brimming with gay ghosts? Think of it as Boston Spirit's guide to the spirits. Whether you're a believer in the "Boo!" business or just an amused skeptic, here's a local look at the things that go bump — and grind — in the night.
Boston
Jacques Cabaret, 79 Broadway in Boston's Bay Village
Night of the Living Drag Diva sounds like a good title for the campiest zombie flick never made. But here's a real-life equivalent: Boston-based comedian Jim Lauletta said he had a close encounter with a ghostly drag queen with an attitude in 2010 while performing a stand-up set at Jacques Cabaret. Lauletta has appeared everywhere from Comedy Central to HBO, thanks in part to his knack for channeling celebrities in his impressions. But he says he also possesses an uncanny ability to tap into the spirit realm. "I felt a little uneasy when I went down to the basement of the club," Lauletta recalled, saying he felt a "whoosh" feeling when he was walking down the stairs. "I then saw something out of the corner of my eye, looked and it was gone." Lauletta believes he had a close encounter with the spirit of Sylvia Sidney, born Sidney Sushman. The late, great "Bitch of Boston" was legendary in the Boston-area LGBT community. In fact, the trailblazer began his career as a drag performer in 1947 and was famous for crossing over into mainstream venues. The man behind the makeup was interviewed by The History Project in '96 and asked how he wanted to be remembered. "As a fun-loving, outspoken homosexual who spoke his mind," Sushman shot back. Apparently, Sidney's legendary attitude carried over from the grave.
Omni Parker House, 60 School St. in Downtown Boston
Arguably the most haunted hotel in New England since opening its doors in October 1855, the Omni Parker House has been home to various sightings of the apparition of the hotel's founder, Harvey Parker, who reportedly has been spotted roaming the tenth-floor annex, checking up on unsuspecting guests. Other spooky happenings involve elevators mysteriously being called to the third floor—once frequented by both Charles Dickens and Henry Wadsworth Longfellow. That's also where the gender-bending lesbian actress, Charlotte Cushman, and an unnamed businessman died. In fact, one third-floor guestroom—yes, the mythic room 303—was converted into a closet after the unexplained reports of raucous laughter and the smell of whiskey spooked management. Cushman, a revered Shakespearean actress who played both female and male roles including Romeo and Cardinal Wolsey in Henry VIII, passed away at the hotel in 1869 after having a tumultuous relationship with lesbian sculptor Emma Stebbins. Based on the haunted happenings on the Parker House's third floor, the show must go on … and on and on.
Fall River, MA
Lizzy Borden House in Fall River, MA photo by Sam Baltrusis
Lizzie Borden House, 92 2nd St. #230 in Fall River
Although she was tried and acquitted of the gruesome murder at her 1845-era Victorian home in Fall River, the axe-wielding Lizzie Borden never shook her "forty whacks" claim to fame that she hacked up her father and stepmother on August 4, 1892. In addition to her chop-chop notoriety, Borden apparently had an intimate relationship with actress Nance O'Neill. Yep, Lizzie was a lesbian. There's also a theory that she had a torrid love affair with the housekeeper, Bridget Sullivan, and their testimony contradicted each other during the trial and sometimes even contradicted their own stories. Currently a bed & breakfast and museum, the Borden house is open for curiosity seekers to spend the night in the actual house where the murders took place. As far as ghosts, visitors claim to hear sounds of a woman weeping and have spotted a full-bodied apparition wearing Victorian-era clothing dusting the furniture. There are also reports of phantom footsteps storming down the stairs and doors mysteriously opening and closing. Also, guests have heard muffled conversations coming from vacant rooms. Perhaps it's the spirits of Borden and Sullivan making a post-mortem pact to hide the bloody hatchet.
Gloucester, MA
Hammond Castle photo by Sam Baltrusis
Hammond Castle, 80 Hesperus Ave. in Gloucester
Inventor John Hays Hammond, Jr. built this breathtaking medieval-style castle in the late 1920s. Marrying late in life to his wife Irene Fenton, the eccentric used the mansion as a laboratory and private residence until his death in 1956. In fact, he's buried in a crypt tucked away on the property and is rumored to be among the several wayward spirits who haunt the house. Hammond had an odd desire to be reincarnated as a cat and many believe the black feline who roamed the grounds and set up shop in his favorite chair in the library was, in fact, Hammond himself. The mad scientist collected bizarre antiques, like the skull of seaman from Christopher Columbus' crew, and it's said that some of the artifacts were possibly enchanted. He also was fascinated with Spiritualism and there's an area known as the "dead spot," marked by a chair, where Hammond hosted psychic mediums. Items in the castle inexplicably disappear and reappear. A full-bodied apparition has been seen in the organ loft and a red-haired female specter has popped up amongst guests at weddings held at the castle. Henry Davis Sleeper, the legendary gay designer who built Eastern Point's Beauport and is rumored to have had an unrequited love affair with his Red Roof neighbor Abram Piatt Andrew, Jr., was a regular at Hammond Castle. In fact, Sleeper designed the inventor's favorite spot, known as the "whisper room," where people have heard disembodied voices from beyond.
Provincetown
Carpe Diem, 12 Johnson St. in Provincetown
Owned by partners Rainer Horn and Jürgen Herzog, the literary-themed bed & breakfast known as Carpe Diem had a past life as Provincetown's funeral home. Dead poet's society? Yep, the inn is notoriously haunted. In fact, the William Shakespeare suite, room 9, is where guests sense an otherworldly presence, as if someone or something is standing behind them. In the Eugene O'Neill suite, workers have seen an imprint of a body on the bed when no one was in the room. There have also been reports of disembodied voices and shadow figures in the basement and a female apparition sporting black, turn-of-the-century clothing and walking down the stairs. It's no surprise that bodies were kept in the lower level, awaiting the embalming process and burial, in what was Provincetown's only funeral parlor. One of the ghosts believed to haunt the inn is a former house manager who loved the property so much that he decided to stick around. Seize the day? Apparently, the Latin phrase is applicable even after they're six feet under.
Rose & Crown Guesthouse, 158 Commercial St. in Provincetown
Built in the 1780s and one of the oldest homes in Provincetown, this Georgian-style "square rigger" is known for its eerie wooden-carved ship figurehead, nicknamed the Jane Elizabeth, who greets guests as they enter the lesbian-run guesthouse chock full of Victorian-era antiques and boasting a stunning front-yard garden. The inn is rumored to be haunted by Preston Babbitt, who owned the house in the 1980s and passed away in the early '90s due to complications associated with AIDS. Babbitt loved the yearly Carnival parade and his spirit has been seen in the house wearing a white wedding gown, an outfit he wore with pride during the popular August street festival. Guests at the Rose & Crown have felt Babbitt's presence and have heard inexplicable noises coming from unoccupied rooms. Visitors also claim that his cat haunts the guesthouse, tiptoeing on beds in the wee hours of the night. Phantom puss in boots? Only in Provincetown.
Salem, MA
Hawthorne Hotel, 18 Washington Sq. in Salem
 When the gayest show on '60s-era TV known as Bewitched shot several episodes in Salem, the cast and crew used the allegedly haunted Hawthorne Hotel as home base. In fact, Elizabeth Montgomery's stay in Salem is immortalized in a Samantha Stephens statue in Lappin Park. Yep, gay icons Paul Lynde (Uncle Arthur) and Agnes Moorehead (Esmeralda) would approve from their post-mortem celluloid closet. As far as hauntings, the Hawthorne Hotel allegedly boasts phantom hands in room 325 and a female, full-bodied apparition on the sixth floor. However, when Syfy's Ghost Hunters investigated reports in 2007 of strange sounds like children crying and unseen forces touching guests in the hotel, they didn't uncover anything supernatural. Yet, enthusiasts continue to claim a female apparition hovers in front of room 612. [x]
Harvard Square Ghost Tour
Looking for a gay-friendly ghost hunt? The new Harvard Square Ghost Tour, starting at 7:30 p.m. at Cambridge's Old Burial Ground and running daily until Halloween, boasts several LGBT tour guides and is produced by "Ghosts of Boston: Haunts of the Hub" author Sam Baltrusis. Check out www.CambridgeHaunts.com for the lowdown.